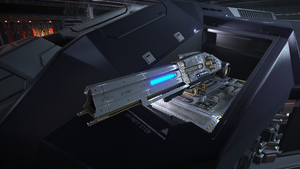 A faster firing plasma accelerator that sacrifices per shot damage to achieve the increased fire rate.

— In-Game Description
The Advanced Plasma Accelerator is a Plasma Accelerator capable of a greater rate of fire at the cost of dealing less damage. This weapon type is power-specific for Denton Patreus supporters.
Acquisition
Edit
This weapon can be purchased once the player has pledged their allegiance to Denton Patreus for 4 or more weeks and has achieved a rating of rank 3 or higher.
Specifications
Edit
Class
Rating
Mass
(T)
Integrity
Power
Draw
Weapon
Mode
Damage
Type
Damage
Armour
Pen
ROF
DPS
Thermal
Load
Ammo
Clip Size
Ammo
Maximum
3
B
8.00
A
1.970
Fixed
Absolute, Thermal, Kinetic
34.4
A
0.8
28.67
11
20
300
Damage Type for all Plasma Accelerators is divided as follows[1]:

Absolute: 60%
Thermal: 20%
Kinetic: 20%

Absolute Damage ignores shield resistances.
References
Edit
Energy Weapons
Projectile Weapons
Misc Weapons
Power-Specific Weapons
Advanced Plasma Accelerator
Experimental Weapons