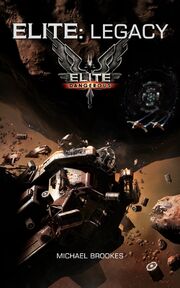 Elite: Legacy is a novel written by Michael Brookes. The book's description is as follows [1]
The mining colony Freeholm in the Artemis system is celebrating ten years of independence. Once a penal colony for political prisoners from the neighbouring planet of Laphria, the station is now a thriving mine and refinery.

The brutal murder of two of the station's resident traders when ambushed in the surrounding asteroid belt sends shockwaves through the community. With the identity of the attackers unknown, Freeholm's head of security and hero of the rebellion, Darik Cavus, must discover the deadly conspiracy unfolding against his home.

They cannot face the threat alone. Darik's daughter, Julia, must travel and find help before the station's small defence force is overwhelmed. The forces moving against the colony seek to prevent her mission.

Events start to spiral out of control for Julia and her small band of allies, and nothing is as it first seems.
References
Edit
Ad blocker interference detected!
Wikia is a free-to-use site that makes money from advertising. We have a modified experience for viewers using ad blockers

Wikia is not accessible if you've made further modifications. Remove the custom ad blocker rule(s) and the page will load as expected.