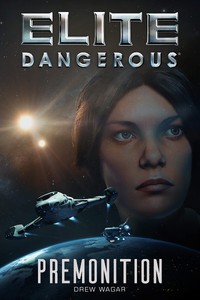 Elite Dangerous: Premonition is an Elite Dangerous novel written by Drew Wagar. It was published by Frontier Developments on June 27, 2017. Drew wrote one of the original official novels, Elite: Reclamation. The eBook is available on the Frontier Store with the paperback being provided by Amazon ([1], [2])
Unlike previous licensed official fiction, Frontier Developments took the decision to promote and publish this novel directly. They worked in close collaboration with Drew and gave Drew a "'behind the scenes' look at what's really going on in the galaxy, its background and what's coming."
As such it featured the current core story of the game (3302-3303) and was, in part, shaped by player actions as they responded to events in the Elite Dangerous universe during that time.
Drew has indicated that the novel was designed to be "an expansive space operatic adventure with a mix of space battles, conflict, drama, tension and political shenanigans."
Frontier Developments went on to describe it as "an exciting undertaking, which adds a complementary new dimension to our storytelling. We couldn't do it without Drew and his relationship with Frontier, the technology behind the Elite Dangerous galaxy and most of all you - this incredible community of Commanders."
Ad blocker interference detected!
Wikia is a free-to-use site that makes money from advertising. We have a modified experience for viewers using ad blockers

Wikia is not accessible if you've made further modifications. Remove the custom ad blocker rule(s) and the page will load as expected.