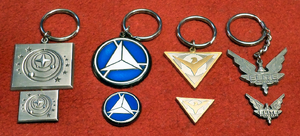 Fans of Elite Dangerous might be interested to know that in addition to the game, Frontier Developments sells merchandise at the Frontier Store. There's high quality, customizable clothing like Hoodies & Sweatshirts, T-Shirts & Polos and socks.
There's also accessories such as mugs, pin badges and keyrings with the Alliance, Federation and Empire insignia represented on high quality metal. The pin badges are enameled where applicable.
Ad blocker interference detected!
Wikia is a free-to-use site that makes money from advertising. We have a modified experience for viewers using ad blockers

Wikia is not accessible if you've made further modifications. Remove the custom ad blocker rule(s) and the page will load as expected.