The music of Elite: Dangerous was made by composer Erasmus Talbot and Frontier Head of Audio, Jim Croft.
Erasmus Talbot and Jim Croft developed the dynamic music system that allows the score to 'breathe' and reflect gameplay. Croft managed a team of talented individuals who also worked on audio such as ship engine sound and the ship's voice. Croft said it's been an absolute honor and privilege to be involved with Elite Dangerous.[1]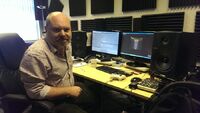 The Elite Dangerous Original Soundtrack has over 2 hours of music content to immerse yourself in the Elite Dangerous universe. It includes an eight-page full colour PDF booklet containing sleeve notes by composer Erasmus Talbot and Executive Music Producer and Frontier Head of Audio, Jim Croft. The initial release date was April 1, 2015 and it's available at the Frontier store.[2]
References
Edit
Ad blocker interference detected!
Wikia is a free-to-use site that makes money from advertising. We have a modified experience for viewers using ad blockers

Wikia is not accessible if you've made further modifications. Remove the custom ad blocker rule(s) and the page will load as expected.