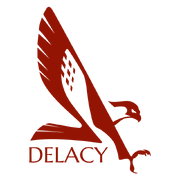 Faulcon DeLacy is a manufacturer of ships and equipment. They specialize in producing multipurpose and combat-oriented ships. The company began under the name Faulcon Manspace, and is well-known for having acquired sole rights to the production of all missiles. Currently based in Reorte, they have seen the acquisition of numerous companies including:
Paynou, Prossett and Salem
Cowell & MgRath
Playable
Edit
Upcoming
Edit
Equipment
Edit
In 2762, Faulcon Manspace won the contract to design a police ship, and created the Viper. This design became the standard GalCop Police ship. The design was sent to all medium/high-tech shipyards for immediate mass production, earning Faulcon Manspace immense profits.
In 2888, Faulcon Manspace purchased Prossett and Salem to enter into the lucrative "one man trader" market, acquiring the Cobra MkI.
In 2982, the Galactic Navy contracted Faulcon Manspace to design a multipurpose support craft as a fast and manoeuvrable forward reconnaissance craft. This ship became known as the Sidewinder Scout Ship. The design immediately became popular with space pirates.
In 3034, a merger with deLacy ShipWorks of Inines, manufacturer of the Krait, saw Faulcon Manspace change its name to the modern Faulcon DeLacy.
In 3095, Faulcon DeLacy, under the name of Faulcon Manspace, constructed the first Iguana. It was the last ship to be produced under the Faulcon Manspace name. Following the debacle of the Cobra MkII, they sub-contracted the Cobra MkIII to Cowell & MgRath Shipyards of Lave while they replaced their R&D department.
In 3113, Faulcon DeLacy purchased Cowell & MgRath, and brought production of the Cobra MkIII back in-house.
In 3126, Faulcon DeLacy purchased the Zorgon Peterson Group, the designers of the Fer-de-Lance.
FE2/FFE Expanded Timeline
Edit
In the early 3100s, the Fer-de-Lance became a favourite with bounty hunters, but was outlawed in the late 3100s due to its overuse by pirates. During this time, Faulcon DeLacy's corporate headquarters was moved to Olympus Village on Mars in Sol.
In 3195, Faulcon DeLacy designed and manufactured the Eagle Long Range Fighter.
In 3248, Building on the success of the Viper, Faulcon DeLacy once again broke into new ground with the release of the Viper MkII.
Ship Manufacturers
Other Corporations
Ad blocker interference detected!
Wikia is a free-to-use site that makes money from advertising. We have a modified experience for viewers using ad blockers

Wikia is not accessible if you've made further modifications. Remove the custom ad blocker rule(s) and the page will load as expected.