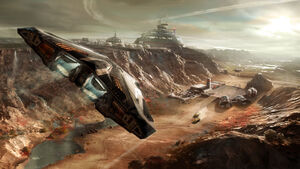 Elite Dangerous has a truly huge scope and Frontier has ambitious development plans. During an interview at Lavecon 2015, Frontier stated to have a clear intention of a 10 year development plan. [1] This includes small free updates and paid major updates. Frontier uses an iterative approach which means gradually build upon features to expand and improve them. This page gives a rough overview of planned additions for ED.
Features
Edit
The expansions will include significant new features such as seamless freeform (manual pitch/yaw/roll) atmospheric flight and landings (atmospheric landings) and on-foot and out-of-ship activities (space legs) (such as FPS combat, walking around and boarding ships, walking in stations and walking and driving vehicles on entire 1:1 scale populated living planets), multi-player crew and player executive controlled capital ships.
Frontier intends to release small, free updates after launch. Expansions that include significant new features and content will have to be purchased.
For example, the roadmap is to add these features with major updates (in no particular order): [2] [3]
The scope for Elite is huge, so a sensible strategy is used to add to the game in stages.
Keep in mind that the game has been well planned and designed from the start with all these features in mind (it is not an afterthought) and Frontier Developments already has the technology for this.
Horizons
Edit
For detailed information about the Horizons season of updates see the Horizons page.
Major Updates after Horizons
Edit
On May 24, 2017, Frontier's head of communications Zac Antonaci commented on future major updates after Horizons: "So with the Horizon season of expansions coming to a close, what is beyond 2.4 I hear you ask? Well, it certainly isn't the end of this amazing journey… we're only just getting started!"
"Our awesome dev team are dedicated to continuing to build and improve the Elite Dangerous experience with an exciting long term vision in mind. We're happy to be able to confirm that the next major updates following 2.4 will focus on core gameplay, existing features, quality of life and other improvements! We're delighted to be investing a considerable amount of development and effort into making the core gameplay experience even better for our fantastic community or players."
"We'll be sharing more news on that content and our roadmap at a very special event coming later in the year - more details on this event will be released in the weeks after E3."[4]
Obsidian Ant said after visiting the Frontier offices on June 9 2017 "Another thing that I know has been concerning people is Frontier's talk about working on the "core mechanics" of the game after 2.4. Some people feel this means the game is going into maintenance mode with Frontier simply working on bug fixes and minor changes. We got the chance to ask for clarification on this - and the "core mechanic" changes actually means that Frontier are going to flesh out existing game mechanics and give the developers the opportunity to bring these aspects of the game inline with the original concepts as well as to perhaps add further enhancements where they can. So it seems that this is going to be big deal stuff, rather than just small tweaks."[5]
"Another thing I've seen people wonder about, is whether or not there will be new features in the future updates. Good news is that there will still be new content added to the game along with new headline features. However Frontier are not willing to talk about what that stuff is just yet."
Developer Comments
Edit
During the 2016 Elite Dangerous 24 Hour Charity Livestream! David Braben confirmed a 10 year development plan and he hopes it'll be a lot longer than that.[6] "Looking back at those (developer videos), you can see what we've done, were executing on the plan. There's still a lot of things that are to come and those are very exciting. We do have a long plan. It would take us a long time to deliver all the things that we want to do. The great thing is the more things get added to the end of it. So it may well be never ending. I've said sort of 8 years, 10 years, but actually it could end up and I'm hoping it'll be a lot longer than that. The key point is we'll keep doing exciting things and we'll work out how best to do that."
Related Links
Edit
References
Edit
Ad blocker interference detected!
Wikia is a free-to-use site that makes money from advertising. We have a modified experience for viewers using ad blockers

Wikia is not accessible if you've made further modifications. Remove the custom ad blocker rule(s) and the page will load as expected.