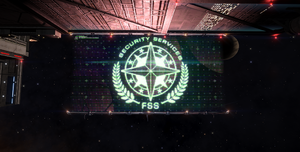 The Federal Security Service are a law enforcement agency in the Federation.[1] Their ships, with the identifier Federal Security Service, do security patrols and law enforcement in all Federation systems.
They also investigate crimes and mysteries, such as the murder of Agent Susan Monroe, a member of the Presidential Protection Detail,[2] and the apparent suicide of her partner, Federal Times reporter Elaine Boyd.[3]
References
Edit
Ad blocker interference detected!
Wikia is a free-to-use site that makes money from advertising. We have a modified experience for viewers using ad blockers

Wikia is not accessible if you've made further modifications. Remove the custom ad blocker rule(s) and the page will load as expected.