This page may contain information that is not correct in the current version of the game. Please assist in making this page accurate.

This page requires more information and formatting

Felicity Farseer is a legendary explorer, who engineered her own improvements to her Asp Explorer early in her career. She is willing to share some of that knowledge with fellow explorers and also operates an extensive training programme for technicians and mechanics heading out into the black. She based herself here at her father's mining and refinery facility, though in fact her operation is separate. Develop your relationship with her to learn about another engineer.

— In-game Description from Engineers Tab
Felicity Farseer is an engineer who specializes in modifying FSDs, Thrusters, PowerPlants, Shield Boosters and FSD Interdicters. She will only help explorers.
Location
Edit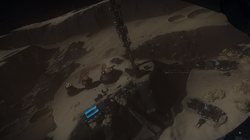 Deciat 6 A - Farseer Inc. Allegiance - Federation.
Services Available at Port:
Repair
Restock
Universal Cartographics
Outfitting
Refuel
How to Unlock?
Edit
How to Gain Reputation?
Edit
Craft modules
Sell exploration data at Farseer Inc.
Expertise on Offer
Edit
Engines: Levels 1-3.
Dirty Drive Tuning;
Clean Drive Tuning;
Drive Strengthening;
FSD Interdictors: Level 1.
Expanded Capture Arc;
Longer Range;
Shield Boosters: Level 1.
Blast;
Kinetic;
Thermal Resistant;
Heavy Duty;
Resistance Augmented;
FSD: Levels 1-5.
Increase Range;
Faster Boot;
Shielded;
Power Plant: Level 1.
Armoured;
Overcharged;
Low Emissions;
Power Plant Edit
FSD Interdictor Edit
Shield Booster Edit
Ad blocker interference detected!
Wikia is a free-to-use site that makes money from advertising. We have a modified experience for viewers using ad blockers

Wikia is not accessible if you've made further modifications. Remove the custom ad blocker rule(s) and the page will load as expected.