| | |
| --- | --- |
| | This page may contain information that is not correct in the current version of the game. Please assist in making this page accurate. |
Novels set in the Elite: Dangerous Universe
Edit
There are a number of novels available alongside the Elite Dangerous game and one currently underway. There are also several projects that may deliver other stories/games.
The novels are available at the Frontier Store and Amazon.
Novels published by Frontier Developments
Edit
Premonition is a novel written by Drew Wagar. It was announced by Frontier on the 12th of August 2016 and published on June 27th 2017. It has been described as a sequel to Elite: Reclamation, but also as a player-driven story influenced by in-game events and player actions. The book is available on the Frontier Developments Store.
Novels by Fantastic Books Publishing
Edit
Reclamation is a novel written by Drew Wagar. It is a space opera/thriller set on the borders of the Frontier where the Empire and Federation are fighting over a star system. It features the in-game character Senator Kahina Tijani Loren and concentrates on the Imperials. The author's website can be found at www.drewwagar.com. Available to buy now from Fantastic Books Publishing or Amazon.
Mostly Harmless is a novel written by Kate Russell.[1] A comedic tale of Commander Angel Rose, the Mostly Harmless pilot who becomes an unwitting and incompetent assassin. Available to buy now from Fantastic Books Publishing or Amazon.
And Here The Wheel is a novel written by John Harper. It ties together the storylines of The Dark Wheel and the Thargoid missions of First Encounters to create an interstellar adventure that no Elite fan will ever forget. Web-page at [1]. Available to buy now from Fantastic Books Publishing or Amazon.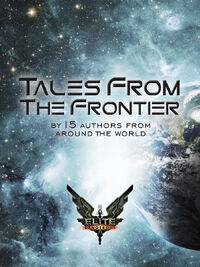 Tales from the Frontier is an anthology of 15 novellas and short stories by writers from around the world. Each story takes place in different parts of the Elite universe. Formal web-site at www.elite-anthology.co.uk. Available to buy now from Fantastic Books Publishing or Amazon.
Novels published by Gollancz
Edit
Written by Gideon Defoe, Elite : Docking is difficult is a comedy.
Written by Simon Spurrier, Elite: Nemorensis is a story of a pair of lovers making their way in the Elite Dangerous universe.
Written by Stephen Deas and Gavin Smith under the pseudonym 'Gavin Deas', Elite : Wanted is a story of pirates and bounty hunters.
Other Novels
Edit
A novel written by T James. It is the only novel to specifically featured the Thargoids. Web-page at [2].
Lave Revolution is a novel written by Allen Stroud, with stretch goals that include a short film.[2] It follows the transition of Lave from a Dictatorship to a Democracy before the start of the Elite: Dangerous game. Available to buy now from Smashwords or Amazon.
A novel written by Michael Brookes. "The mining colony Freeholm in the Artemis system is celebrating ten years of independence. Once a penal colony for political prisoners from the neighbouring planet of Laphria, the station is now a thriving mine and refinery."
Fangs is an unofficial Elite Dangerous noir-inspired web comic by Lee Hutchinson. Fangs, Book One: What the Watching Gods Thought, consists of 10 chapters. Fangs, Book Two: Every Man's Wish On Board, has six chapters to date.[3]
Elite Dangerous: Mercenary Commander is an unofficial fan comic made by David Hall in 2015. It has four full-color pages and a cover page.[4] The story is about the faceless hero Khel Varek and a bounty hunter.
Projects
Edit
The following projects are still outstanding at this time.
A roleplaying game set in the Elite: Dangerous universe, by Dave "Selezen" Hughes. It was successfully Kickstarted on March 3 2013.[5] An early "Alpha" version of the rules were released to a closed group in December 2013[6] and a Beta version is due for release in August 2014[7].

Supermassive is a novel to be written and illustrated by André Czausov. The book is planned to be around 90k words in length, and a suite of original illustrations will be incorporated into the PDF edition, together with some crowdfund-only extras such as Void. The ebook is due to be released in late February 2014. A website is online at suprmasv.czausov.com.
Survivor is a gamebook to be written by Nathan Page. Armed with nothing more than a pencil, two dice and an eraser, do you have the skill and wits to thrive in a hostile galaxy? [8]
A novel to be written by crowd-sourcing. See their website for more information on joining in. Web-page at [3].
No information has yet been released, including the title.[9]
Space Store is a fan fiction novel being written by AndyB, on the Frontier forum.[10] Not an official work, but developed with some consultation. The story is being written with drafts appearing on the forum, so you can see how the story develops.
Additional Links
Edit
References
Edit
Ad blocker interference detected!
Wikia is a free-to-use site that makes money from advertising. We have a modified experience for viewers using ad blockers

Wikia is not accessible if you've made further modifications. Remove the custom ad blocker rule(s) and the page will load as expected.