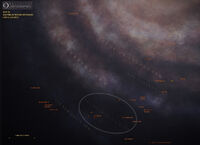 The Formidine Rift is an expanse of space located between the Outer Perseus Arm and the New Galactic Arm. It's about 10,000 light years from
Sol
, and loosely populated with stars. This area had a reputation as a kind of Bermuda Triangle, before the advent of the frame shift drive. Few who venture into the Rift return to tell the tale.
[1]
Drew Wagar named this area of space and entered it into Elite lore with his book, Elite: Reclamation. It's connected to the Formidine Rift Mystery.
References
Edit
Ad blocker interference detected!
Wikia is a free-to-use site that makes money from advertising. We have a modified experience for viewers using ad blockers

Wikia is not accessible if you've made further modifications. Remove the custom ad blocker rule(s) and the page will load as expected.