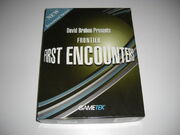 Frontier: First Encounters is a space trading and combat simulator video game for the IBM PC, released on April 16, 1995. It's the sequel to Frontier: Elite II (released in 1993) and it's the third game in the Elite series which first debuted on the Acorn BBC Micro computer in 1984. The planned Amiga version of First Encounters was never completed; it had been originally slated for a summer 1995 release for the Amiga 1200, Amiga 4000, and CD32 systems. The game was created by David Braben's company, Frontier Developments, and distributed by GameTek. This game is often referred to by the shortened title of 'FFE'. It also had a collection of short stories; Further Stories Of Life On The Frontier.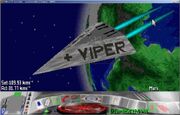 Ad blocker interference detected!
Wikia is a free-to-use site that makes money from advertising. We have a modified experience for viewers using ad blockers

Wikia is not accessible if you've made further modifications. Remove the custom ad blocker rule(s) and the page will load as expected.