Brislington
Faction
Crimson Major Incorporated
Government
Corporate
Allegiance
Independent
Facilities
Commodities
Refuel
Repair
Re-arm
Outfitting
Shipyard
Trade data
Economies
Industrial
Imports
Platinum
Palladium
Gold
Exports
Food Cartridges
Basic Medicines
Clothing
Prohibited
Combat Stabilisers
Narcotics
Tobacco
Battle Weapons
Slaves
Toxic Waste
Imperial Slaves
Stellar data
Orbital Period
1.5 Days
Semi Major Axis
50,000 KM
Orbital Eccentricity
0.0088
Orbital Inclination
17.03 DEG
Arg of Periapsis
232.19 DEG
Rotational Period
1.0 Days
Axial Tilt
0.00 DEG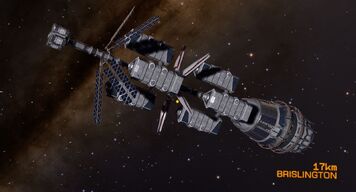 The Brislington starport is located in the H Draconis star system. Along with the moon Makalu, Brislington orbits the planet Gaalai. It is considered to be an Ocellus class starport, and it does not feature any rings, which are usually seen on starports such as this. 
A Black Market is located here.
Outfitting
Edit
Weapons
C2 Multi-Cannons
C2 Cannon
C1 Pulse Laser (G)
C2 Missile Rack
C1 Burst Laser (G)
C2 Rail Gun
C2 Burst Laser
C4 Rail Gun
C6 Pulse Laser
C4 Cannon
C6 Burst Laser
C3 Pulse Laser (G)
C4 Missile Rack
Armour
Utility
Cargo Scanner
Chaff Launcher
Kill Warrant Scanner
Support
Ad blocker interference detected!
Wikia is a free-to-use site that makes money from advertising. We have a modified experience for viewers using ad blockers

Wikia is not accessible if you've made further modifications. Remove the custom ad blocker rule(s) and the page will load as expected.