Upcoming Content

Content described on this page has not been released yet. Keep in mind that any information described here that does not have a reference is probably speculation.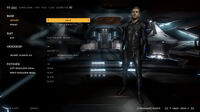 Holo-Me is the name of the character customisation for the player's commander. It allows players to change their suit, head related features, and cosmetics.
Technology
Edit
The Holo-Me is a representation hologram of what you're going to look like. It then applies it to your Commander, who is a real person sitting in the chair.[1] The crew that join your ship through telepresence are holograms.[2]
The Holo-Me is part of the upcoming update 2.3 The Commanders.
References
Edit
Ad blocker interference detected!
Wikia is a free-to-use site that makes money from advertising. We have a modified experience for viewers using ad blockers

Wikia is not accessible if you've made further modifications. Remove the custom ad blocker rule(s) and the page will load as expected.