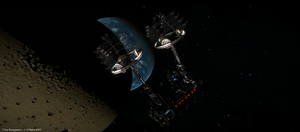 Installations have various purposes and are located in the galaxy. Horizons update 2.3 adds additional installations.[1]
Installation Types
Edit
The known installation types are:
Medical
Space Bar
Space Farm
Government
Security Station
Military
Agricultural
Locations
Edit
These are known locations of installations.[2]
Civilian Installation - Alpha Centauri B1 [image]
Huge scientific installation - Amadioha [image]
Scientific installation - Atins (orbiting Atins 1) [image]
Tourist installation - BD+22 3878 planet 5 [image]
"Comm's installation" (CQC tunnels, etc) - Belu [image]
"Unauthorised installation" pirate base near planatery rings - Dain [image]
Military installation - Facece Topaz [image]
Military installation [Military] - Gridge 1 [image]
Scientific installation - Groombridge 34 4 A
Tourist installation [Tourism] - HR 6164 C [image]
Government installation [Government] - Inti A 6 [image]
Industrial installation [Industrial] - Lakshu A 1 [image]
Large Military installation (large gantried structure floating close to the star) - LFT 926 [image] [image]
Scientific installation (CQC structure with tunnels, etc) - Moyot (orbiting the gas giant Moyot 7) [image]
Giant Civilian installation (Long structure) - Nevermore A 1 [image]
Giant Civilian installation (CQC structure with tunnels, etc) - Ngalkin A 1 C [image]
Unauthorised installation - Rahu (over the rings of Rahu 1) [image]
Civilian installation [Bar] - Thrutis A 2 [image]
Medical installation [Medical] - Zelano A 4 [image]
Panacea medical center, HIP 17519 A1
Pirate Lord Luca installation - Karis System Karis AB 2 
Features
Edit
Frontier confirmed that gameplay features with installations will come at a later date. Lead Game Designer Steve Kirby said these things are implemented in stages. They want the installations and other locations to be fleshed out with more meaningful interactions and links to other areas of the game. Such as more reason to visit these locations and more meaningful actions to do when you are there.[3]
The Space Bar installation suggests that we can dock and walk around there in a future update.
References
Edit
↑ https://forums.frontier.co.uk/showthread.php/304355-Ship-docks-CQC-structures-and-other-new-in-game-assets
Ad blocker interference detected!
Wikia is a free-to-use site that makes money from advertising. We have a modified experience for viewers using ad blockers

Wikia is not accessible if you've made further modifications. Remove the custom ad blocker rule(s) and the page will load as expected.