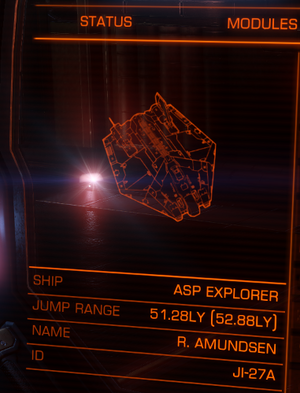 Jump range is a ship statistic that displays the maximum length of a Hyperspace jump. If the distance to a system is greater than the ship's jump range, the ship is not able to jump there.
The jump range is determined by two factors: the mass of the ship, the Frame Shift Drive (FSD) and a Boost from Synthesis or a Jet-Cone. This means the jump range can be increased by the following.
A higher class and/or higher grade FSD
Lower ship module weight
Carrying less cargo and fuel
Synthesis of a boost
Gaining a boost in a neutron stars Jet-Cone
Engineers can upgrade the FSD for more range and other modules for lower weight.
Some ships have better jump range than other ships, for example the explorers: (not engineered)
| ship name | jump range (not upgraded) | jump range (fully upgraded) | ship cost (not upgraded) (CR) |
| --- | --- | --- | --- |
| Anaconda | 9.41 ly | 41.45 ly | 146,969,451 |
| Asp Explorer | 13.12 ly | 38.19 ly | 6,661,153 |
| Asp Scout | 11.69 ly | 31.47 ly | 3,961,150 |
| Diamondback Explorer | 14.15 ly | 41.61 ly | 1,894,760 |
| Diamondback Scout | 11.35 ly | 30.4 ly | 564,320 |
| Sidewinder MkI | 7.56 ly | 24.43 ly | 32,000 |