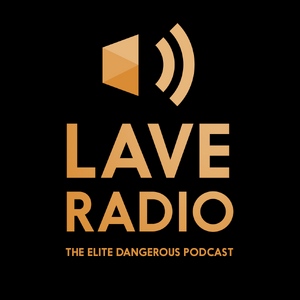 Lave Radio is a regular collaborative podcast about Elite Dangerous featuring Allen Stroud, Chris "Fozza" Forrester, Chris Jarvis and John Stabler. It is currently on a weekly release schedule and also includes regular interviews with licensed fiction writers as separate downloads.[1]
Typically airs live outside of Lave Station every Tuesday at 8:30pm GBT. Information on how to listen to the live broadcast is available on their website.
Regular features include:
Latest news about the game
News and information on licensed creative projects and community projects
Information on Dev/Fiction diary videos, newsletters and from the Design Decision Forum
Community corner - a collection of listener memories and happenings in the forums
Listener feedback and questions
Music
Lave Radio Ship
Edit
Lave Radio is also an in-game Sidewinder located near the planet Lave in the Lave system. Players approaching the Sidewinder will hear a Lave Radio broadcast. "An orange sidewinder, hosted by a vending machine technician"
If you shoot the ship it'll say "All you'll hear is Radio Boom Boom! Radio Pew Pew! Radio it's true. Lave Radio just shot you." Then you'll get a bounty on your head and Allied Police Forces attack on sight.[2]
References
Edit
Ad blocker interference detected!
Wikia is a free-to-use site that makes money from advertising. We have a modified experience for viewers using ad blockers

Wikia is not accessible if you've made further modifications. Remove the custom ad blocker rule(s) and the page will load as expected.