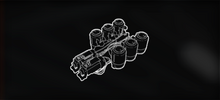 Regulates habitable ship atmosphere and provides emergency reservoir for pilot's Remlock system.

— In-game description
Life support is required to maintain a breathable atmosphere inside of the ship. If for some reason the ship's canopy is broken, the ship's atmosphere will be vented to space leaving the pilot with limited time to reach a station (time is based upon module rating). Any given ship is only able to equip one class of life support (i.e. An Asp is able to equip only class 4 life support, it cannot equip classes 1,2 or 3). It is suggested that the pilot either fits a Rating E life support for its lower power draw, or a Rating D life support for its much lower weight compared to its same-level counterparts. Another option is to use an A rated life support module, which can be safely turned off to remove its power draw for some time due to its long oxygen timer; this can be good for combat pilots maxing out a top quality power plant.
When a ship's canopy is breached, a Remlok Survival Mask instantly deploys from the pilot's Remlok Suit to protect the wearer against oxygen depletion and the vacuum of space.
Your oxygen supply can be replenished at any Starport, or via Synthesis.
Specifications
Edit
Class
Rating
Mass (T)
Integrity
Power
Draw
Oxygen Time
Capacity
Value (CR)
1
E
1.30
A
0.320
5:00
517
1
D
0.50
A
0.360
7:30
1,293
1
C
1.30
A
0.400
10:00
3,231
1
B
2.00
A
0.440
15:00
8,078
1
A
1.30
A
0.480
25:00
20,195
2
E
2.50
A
0.370
5:00
1,448
2
D
1.00
A
0.410
7:30
3,619
2
C
2.50
A
0.460
10:00
9,048
2
B
4.00
A
0.510
15:00
22,619
2
A
2.50
A
0.550
25:00
56,547
3
E
5.00
A
0.420
5:00
4,053
3
D
2.00
A
0.480
7:30
10,133
3
C
5.00
A
0.530
10:00
25,333
3
B
8.00
A
0.580
15:00
63,333
3
A
5.00
A
0.640
25:00
158,331
4
E
10.00
A
0.50
5:00
11,349
4
D
4.00
A
0.560
7:30
28,373
4
C
10.00
A
0.620
10:00
70,932
4
B
16.00
A
0.680
15:00
117,331
4
A
10.00
A
0.740
25:00
443,328
5
E
20.00
A
0.57
5:00
31,778
5
D
8.00
A
0.64
7:30
79,444
5
C
20.00
A
0.71
10:00
198,611
5
B
32.00
A
0.78
15:00
496,527
5
A
20.00
A
0.85
25:00
1,241,317
Engineer Modifications
Edit
The following modifications can be applied to this module by Engineers to enhance its abilities:
Locations
Edit
| System | Starport | Classes |
| --- | --- | --- |
| WISE 1647+5632 | Hirase Platform | Verify |
| STKM 1-626 | Fujimori Terminal | 3 |
| LTT 7548 | Boltzmann Gateway | 3 |
| Kokojina | Ali Ring | 3 |
| LP 732-94 | Gemar Port | 1 |