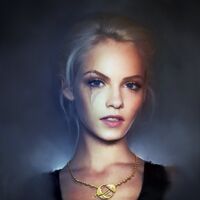 Mavia Kain is the High Inquisitor of the Imperial Inquisition. She's known for cooperating with Emperor's Grace in a united offensive against the Kumo Crew in the Pegasi sector. Kain also announced the Galactic Games for Charity and the Imperial Inquisition's plan to develop the planetary outpost of i Sola Prospect on Brestla A1.
Activities
Edit
14 AUG 3301: "Mavia Kain, the High Inquisitor and leader of the Imperial Inquisition, is scheduled to pay a visit to Admiral Varrwen Mako Brennus, leader of Emperor`s Grace. Rumours about the groups' cooperation have been circulating since the start of the united Imperial offensive in the Pegasi sector. Both factions are presently engaged in a peacekeeping operation against the Kumo Crew, which began when Archon Delaine illegally invaded Imperial space and took Imperial citizens into slavery." [1]
06 NOV 3301: "Mavia Kain has formally announced the upcoming Galactic Games for Charity. The games will take place between the 13th and 15th of November 3301 in support of the Princess Margaret Cancer Foundation. A general amnesty will be declared in the Brestla system over the weekend." [2]
05 FEB 3302: "Mavia Kain has announced that the group's campaign to develop the planetary outpost of i Sola Prospect on Brestla A1 has been enthusiastically received by the galactic community. Members of the organisation were motivated to launch the campaign after becoming frustrated with i Sola Prospect's limited service options. Having received significant quantities of material, the organisation is now in a position to begin developing the outpost." [3]
Portrait source. [4]
References
Edit
Ad blocker interference detected!
Wikia is a free-to-use site that makes money from advertising. We have a modified experience for viewers using ad blockers

Wikia is not accessible if you've made further modifications. Remove the custom ad blocker rule(s) and the page will load as expected.