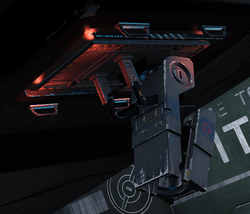 Defensive weapon. Deploys proximity-triggered charges.

— In-Game Description
Mine launchers drop mines when fired. Once mines are dropped they will detonate when any hostile ship enters its proximity. Enough mines in the same location can quickly destroy small and medium sized ships.
Munitions
Edit
Spent ammunition must be replenished once used. Any station is equipped with a "Re-arm" service will be able to replenish ammunition. Once docked at the station, ammunition can be purchased from the Munitions menu in the Starport Services. Mines costs 209 CR per unit. In this case one mine is one unit.
Engineers
Edit
This weapon can be modified by Engineers to enhance it's abilities.
Modifications
Edit
The following modifications can be applied to this module:
Possible Experimental Effects
Edit
Modifying this module can sometimes result in any one of the following special effects also being applied:
Specifications
Edit
Class
Rating
Mass
(T)
Integrity
Power
Draw
Weapon
Mode
Damage
Type
Armour
Penetration
Thermal
Load
Ammo
Clip Size
Ammo
Maximum
Value
(CR)
1
I
2.00
A
0.400
Fixed
Thermic
C
2
1
36
24,260
2
I
4.00
A
0.400
Fixed
Thermic
C
3
3
72
294,080
Thermal Load is based upon the in-game display which is basically an "out of 10" scale thus the value for this section should be assumed as approximation.
Purchase Locations
Edit
| Class | Rating | System | Station | Weapon Mode | Value |
| --- | --- | --- | --- | --- | --- |
| 1 | I | LHS 3447 | Larson Orbital | Fixed | 24,260 |
| 2 | I | LHS 3447 | Larson Orbital | Fixed | 294,080 |
Energy Weapons
Projectile Weapons
Misc Weapons
Mine Launcher
Power-Specific Weapons
Experimental Weapons
Ad blocker interference detected!
Wikia is a free-to-use site that makes money from advertising. We have a modified experience for viewers using ad blockers

Wikia is not accessible if you've made further modifications. Remove the custom ad blocker rule(s) and the page will load as expected.