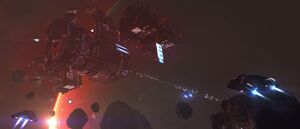 Orbital Junction was the first arena map revealed for CQC Championship. It features a Space elevator, some asteroids here and there and an red evil look. It is not present in the game. Not much more is known about it. It may have just been a work-in-progress version of Elevate, with different lighting.[1]
References
Edit
Ad blocker interference detected!
Wikia is a free-to-use site that makes money from advertising. We have a modified experience for viewers using ad blockers

Wikia is not accessible if you've made further modifications. Remove the custom ad blocker rule(s) and the page will load as expected.