Engage in contracts with skilled Pilots for an indefinite amount of time. Pilots are well trained in the art of combat and can either be deployed in fighters or tasked to steer your ship when you are in a fighter yourself.

— In-Game Description.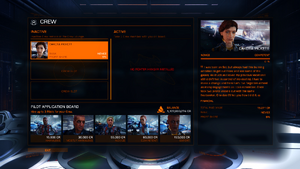 Pilots are non-player characters (NPC) that can be hired as crew to operate remotely-piloted Ship-Launched Fighters, or the player's ship while the player is operating the Ship-Launched Fighter. Pilots can be hired in the Crew Lounge available at many stations.
Each pilot has an initial hiring cost and is paid a profit share of all player earnings during their employment, both of which are based upon the pilot's combat rank. The profit share includes all profits from commodity trades, selling exploration data, completing missions, and redeeming bounty and combat vouchers.
The Crew Lounge has 5 pilots available to hire, one at each rank level. Up to 3 pilots may be hired at once. (After each hiring, the Crew Lounge pool is refreshed so that there are always 5 pilots from which to choose.)
| Rank | Hiring Cost (CR) | Profit Share (%) |
| --- | --- | --- |
| Harmless | 15,000 | 2 |
| Mostly Harmless | 30,000 | 4 |
| Novice | 55,000 | 6 |
| Competent | 90,000 | 9 |
| Expert | 150,000 | 12 |
If the ship is equipped with a Fighter Hangar, one pilot can assigned to the ship as a crew member (made "Active"). Any inactive hired pilots remain in the station (and can be accessed later at any station's Crew Lounge).
Any pilot's contract can be terminated at any time.
Currently, NPC Pilots don't sit in vacant cockpit chairs. They use virtual reality to remote control Ship-Launched Fighters and the main ship. When a pilot dies he or she is permanently dead. Any Pilot rank increases are lost.
Pilots are paid whether they are active or inactive.
If a pilot is fired before the player collects the payment, the pilot will not be paid a share of the profits.
If a Ship-Launched Fighter is destroyed, the pilot survives since the fighter is remotely-piloted. If the ship is destroyed however, the pilot is lost.
Pilot rank increases with combat experience.[1]
It is cheaper to hire a pilot with a lower rank and let them rank up through combat experience than it is to hire a pilot with a higher rank. The profit share paid to the first pilot will be less than the second pilot of the same rank.[2]
 See also
Edit
References
Edit
↑ https://www.reddit.com/r/EliteDangerous/comments/58q7cv/everything_you_need_to_know_about_ship_launched/
Ad blocker interference detected!
Wikia is a free-to-use site that makes money from advertising. We have a modified experience for viewers using ad blockers

Wikia is not accessible if you've made further modifications. Remove the custom ad blocker rule(s) and the page will load as expected.