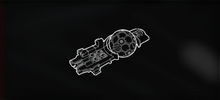 Distribution system for ENG, SYS, and WEP capacitors.

— In-Game Description
The Power Distributor takes power from the Power Plant, and distributes it to the ship's three main onboard areas: Systems [SYS], Engine [ENG], and Weapons [WEP]. It also includes a capacitor bank for each of the three systems, plus a three-way recharge capability. Power Distributors are rated by their energy-storage capacity (the maximum charge in each capacitor) and by their recharge rate (how many power units per second are recharged if that capacitor is at full four pips).
The recharge rate directly correlates to the number of pips the player has assigned to each system. For example, if the 1E Power Distributor (which has a Weapons Recharge rate of 1.200) has all four pips enabled for WEP, it will recharge at a rate of 1.2 power units per second. If it is set for two pips, WEP will recharge at 0.6 power units per second. This means you could fire a single Fixed Beam Laser for approximately six seconds before it overheats. If a power distributor is disabled it will function normally without the ability to change pip allocation. The power distribution will be what it was before it was disabled.
All Power Distributors are capable of recharging WEP considerably faster than SYS or ENG, and that SYS and ENG always have the same maximum recharge rate.
Specifications
Edit
Class
Rating
Mass (T)
Integrity
Power Draw
Weapons
Engines
Systems
Value (CR)
Capacity
Recharge
Capacity
Recharge
Capacity
Recharge
1
E
1.30
A
0.32
10.000
1.200
8.000
0.400
8.000
0.400
517
1
D
0.50
A
0.36
11.000
1.400
9.000
0.500
9.000
0.500
1,293
1
C
1.30
A
0.40
12.000
1.500
10.000
0.500
10.000
0.500
3,231
1
B
2.00
A
0.44
13.000
1.700
11.000
0.600
11.000
0.600
8,078
1
A
1.30
A
0.48
14.000
1.800
12.000
0.600
12.000
0.600
20,195
2
E
2.50
A
0.36
12.000
1.400
10.000
0.600
10.000
0.600
1,448
2
D
1.00
A
0.41
14.000
1.600
11.000
0.600
11.000
0.600
3,619
2
C
2.50
A
0.45
15.000
1.800
12.000
0.700
12.000
0.700
9,048
2
B
4.00
A
0.50
17.000
2.000
13.000
0.800
13.000
0.800
22,619
2
A
2.50
A
0.54
18.000
2.200
14.000
0.800
14.000
0.800
56,547
3
E
5.00
A
0.40
16.000
1.800
12.000
0.900
12.000
0.900
4,053
3
D
2.00
A
0.45
18.000
2.100
14.000
1.000
14.000
1.000
10,133
3
C
5.00
A
0.50
20.000
2.300
15.000
1.100
15.000
1.100
25,333
3
B
8.00
A
0.55
22.000
2.500
17.000
1.200
17.000
1.200
63,333
3
A
5.00
A
0.60
24.000
2.800
18.000
1.300
18.000
1.300
158,331
4
E
10.00
A
0.45
22.000
2.300
15.000
1.300
15.000
1.300
11,349
4
D
4.00
A
0.50
24.000
2.600
17.000
1.400
17.000
1.400
28,373
4
C
10.00
A
0.56
27.000
2.900
19.000
1.600
19.000
1.600
70,932
4
B
16.00
A
0.62
30.000
3.200
21.000
1.800
21.000
1.800
177,331
4
A
10.00
A
0.67
32.000
3.500
23.000
1.900
23.000
1.900
443,328
5
E
20.00
A
0.50
27.000
2.900
19.000
1.700
19.000
1.700
31,778
5
D
8.00
A
0.56
31.000
3.200
22.000
1.900
22.000
1.900
79,444
5
C
20.00
A
0.62
34.000
3.600
24.000
2.100
24.000
2.100
198,611
5
B
32.00
A
0.68
37.000
4.000
26.000
2.300
26.000
2.300
496,527
5
A
20.00
A
0.74
41.000
4.300
29.000
2.500
29.000
2.500
1,241,317
6
E
40.00
A
0.54
34.000
3.400
23.000
2.200
23.000
2.200
88,978
6
D
16.00
A
0.61
38.000
3.900
26.000
2.400
26.000
2.400
222,444
6
C
40.00
A
0.68
42.000
4.300
29.000
2.700
29.000
2.700
556,110
6
B
64.00
A
0.75
46.000
4.700
32.000
3.000
32.000
3.000
1,390,275
6
A
40.00
A
0.82
50.000
5.200
35.000
3.200
35.000
3.200
3,475,688
7
E
80.00
A
0.59
41.000
4.100
27.000
2.600
27.000
2.600
249,137
7
D
32.00
A
0.67
46.000
4.600
31.000
3.000
31.000
3.000
622,843
7
C
80.00
A
0.74
51.000
5.100
34.000
3.300
34.000
3.300
1,557,108
7
B
128.00
A
0.81
56.000
5.600
37.000
3.600
37.000
3.600
3,892,770
7
A
80.00
A
0.89
61.000
6.100
41.000
4.000
41.000
4.000
9,731,925
8
E
160.00
A
0.64
48.000
4.800
32.000
3.200
32.000
3.200
697,584
8
D
64.00
A
0.72
54.000
5.400
36.000
3.600
36.000
3.600
1,743,961
8
C
160.00
A
0.8
60.000
6.000
40.000
4.000
40.000
4.000
4,359,903
8
B
256.00
A
0.88
66.000
6.600
44.000
4.400
44.000
4.400
10,899,756
8
A
160.00
A
0.96
72.000
7.200
48.000
4.800
48.000
4.800
27,249,391
Engineer Modifications
Edit
The following modifications can be applied to this module by Engineers to enhance its abilities:
Purchase Locations
Edit
| System | Station | Rating | Date Seen |
| --- | --- | --- | --- |
| LP 291-34 | Garratt City | A,B,C,D,E | Oct 13, 2016 |
| System | Station | Rating | Date Seen |
| --- | --- | --- | --- |
| LP 291-34 | Garratt City | A,B,C,D,E | Oct 13, 2016 |
| System | Station | Rating | Date Seen |
| --- | --- | --- | --- |
| LP 291-34 | Garratt City | A,B,C,D,E | Oct 13, 2016 |
| System | Station | Rating | Date Seen |
| --- | --- | --- | --- |
| GAT 2 | Thompson Vision | A,B,C,D,E | Dec 28, 2015 |
| ANLAVE | Suri Park | A,B,C,D,E | Feb 25, 2016 |
| System | Station | Rating | Date Seen |
| --- | --- | --- | --- |
| | | | |
| System | Station | Rating | Date Seen |
| --- | --- | --- | --- |
| Te Kaha | New Horizons Orbital | B, C, E | Dec 24, 2015 |
Need confirmation: kremainn - wohler terminal Class 5 A Grade Equipment : BYEL TACA - Station: Melroy Horizons
Power Distributors do draw some reactor power by themselves, even though the amount isn't shown on their in-game info card