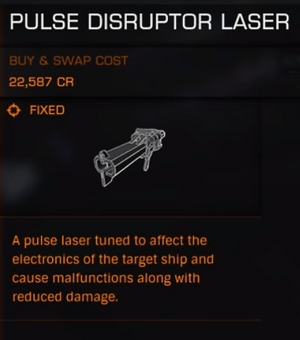 A pulse laser tuned to affect the electronics of the target ship and cause malfunctions along with reduced damage.

— In-Game Description
The Pulse Disruptor is a Pulse Laser that can cause module malfunction in addition to dealing damage. Module malfunction does not destroy the modules; it simply disables them temporarily. This weapon type is power-specific for Felicia Winters supporters.
Acquisition
Edit
This weapon can be purchased once the player has pledged their allegiance to Felicia Winters for 4 or more weeks and has achieved a rating of rank 3 or higher.
Class
Rating
Mass
(T)
Integrity
Power
Draw
Weapon
Mode
Damage
Type
Damage
Armour
Pen
ROF
DPS
Thermal
Load
Value (CR)
2
E
4
A
0.700
Fixed
Thermic
2
A
1.6
2
1
26,400
Damage, DPS, and Thermal Load are all based upon the in-game display which is basically an "out of 10" scale thus the values for these segctions should be assumed as approximations.
Module malfunction does not appear to affect Life Support modules.
NPCs are seemingly not affected by the module malfunction, much like normal damage-induced malfunction.
Currently charging FSDs will cancel their charge when successfully disrupted by the lasers.
Disabling the powerplant will briefly lower its output to 50%, effectively disabling all modules (depends on target's module power priority control) and resetting shield recharge.
Energy Weapons
Projectile Weapons
Misc Weapons
Power-Specific Weapons
Pulse Disruptor
Experimental Weapons