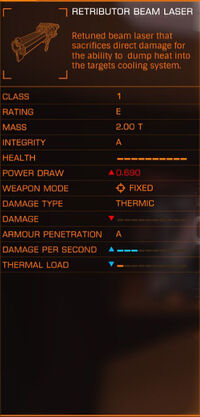 Retuned beam laser that sacrifices direct damage for the ability to dump heat into the targets cooling system.

— In-Game Description
The Retributor is a small Beam Laser with high heat-damage. This weapon type is power-specific for Edmund Mahon supporters.
Acquisition
Edit
This weapon can be purchased once the player has pledged their allegiance to Edmund Mahon for 4 or more weeks and has achieved a rating of rank 3 or higher.
Class
Rating
Mass
(T)
Integrity
Power
Draw
Weapon
Mode
Damage
Type
Damage
Armour
Pen
DPS
Thermal
Load
1
E
2.00
A
0.690
Fixed
Thermic
0
A
3
1
Energy Weapons
Projectile Weapons
Misc Weapons
Power-Specific Weapons
Retributor
Experimental Weapons