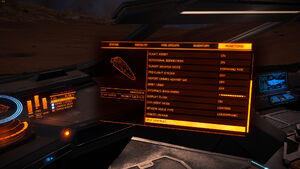 Self Destruct starts a 30-second countdown to destroy the player's ship. It is activated by selecting the Self Destruct option on the Functions tab of the right-side Systems HUD.
Once activated, self destruct cannot be cancelled. The ship explodes after 30 seconds and the player will respawn.
Self destruct cannot be activated in supercruise.
Ad blocker interference detected!
Wikia is a free-to-use site that makes money from advertising. We have a modified experience for viewers using ad blockers

Wikia is not accessible if you've made further modifications. Remove the custom ad blocker rule(s) and the page will load as expected.