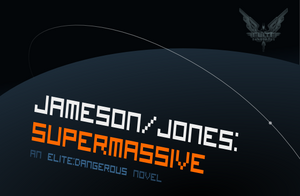 Jameson/Jones: Supermassive is a forthcoming novel written and illustrated by André Czausov. There's an official website.
Storyline
Edit
The story explores the tension between an ageing Commander Jameson and a hotheaded young gangster/bounty hunter, as they meet under fire and then struggle for supremacy in space, all the while stalked by a galaxy-spanning evil that will require their combined skills to survive. This theme in part represents the gulf between the old game of Elite and its newer, flashier incarnation—as a kind of homage to the mighty efforts of Braben & Co to revive it. It also represents a tip of the hat to the potential age range between the oldest and newest players of the revised game.
A number of included story elements will be the product of in-book rewards granted to individual supporters of the original crowdfund at Pozible.
The most complete PDF editions of the book will also include a teaser copy of Void magazine, a parody/community news journal featuring serious and not-so-serious content for players and dreamers of Elite Dangerous.
Development
Edit
This book is not yet released, the last update was on 28 December 2016. The author said "The project continues, but is in metamorphosis. Formal update coming shortly. My thanks to you all for your patience during a pretty difficult phase of life for me."[1]
References
Edit