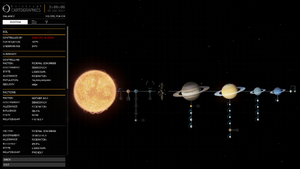 The System Map displays a system's layout and information. Any discovered celestial and system information is documented on the System Map.
Accessing the map of the current system can be accomplished by navigating to the ship's left side panel and selecting "System Map" at the bottom left of the "Navigation" tab.
Accessing the map for any system with discovered information can be accomplished by opening the Galaxy Map, hovering over the desired system, and then selecting the System Map in the popup.
Unless the player has already scanned all of the celestials in a system, not all information will be available when viewing the System Map. If no data is available then the System Map will fail to open. Available data can be purchased with credits either in the "Cartographics" section of Station Services or via the Galaxy Map (option may be available when hovering over the target system).
Once the map has been accessed the player can pan around with WASD (default) and zoom with the mouse wheel. Available information can be viewed by moving the crosshair over any celestial; by moving the crosshair over empty space the System's general information will be displayed. Any celestials that have not been discovered will be displayed as "Unexplored" - information can be discovered by using Discovery Scanners.
Planetary Map
Edit
An additional function of the System Map is the ability to further zoom in to landable planets and moons, and examine their surfaces in detail. Any outposts and settlements present on the world's surface can also be selected to display detailed information and plot a travel route. The Planetary Map can be exited by zooming back out to the full System Map.
Information
Edit
The type of information displayed varies on the object.
Description
Controlling Minor Faction
Government Type
State
Allegiance
Population
Security
All Minor Factions
Description
Age
Solar Masses
Solar Radius
Surface Temperature
HIPP/GLIESE/HD
Asteroid Belt
Edit
Reserves
Ring Type
Moon Masses
Orbital Period
Semi Major Axis
Orbital Eccentricity
Orbital Inclination
Arg of Periapsis
Description
Faction
Government
Allegiance
Influence
State
Relationship
Facilities
Economies
Imports
Exports
Prohibited
Orbital Period
Semi Major Axis
Orbital Eccentricity
Orbital Inclination
Arg of Periapsis
Rotational Period
Axial Tilt
Planet/Moon
Edit
Description
Earth Masses
Radius
Surface Temperature
Surface Pressure
Volcanism
Atmosphere Type
Atmosphere Composition
Planet Composition
Orbital Period
Semi Major Axis
Orbital Eccentricity
Orbital Inclination
Arg of Periapsis
Rotational Period
Axial Tilt