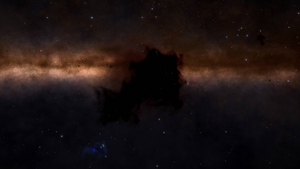 The Taurus Dark Region has some pitch black areas and is 460 light years from Sol. It's a dense interstellar cloud that obscures light from objects behind it. Such as background stars or emission or reflection nebulae are hidden behind it.
It's dangerous due to the shortage of scoopable KGB-FOAM (fuel-scoopable) stars.
Ad blocker interference detected!
Wikia is a free-to-use site that makes money from advertising. We have a modified experience for viewers using ad blockers

Wikia is not accessible if you've made further modifications. Remove the custom ad blocker rule(s) and the page will load as expected.