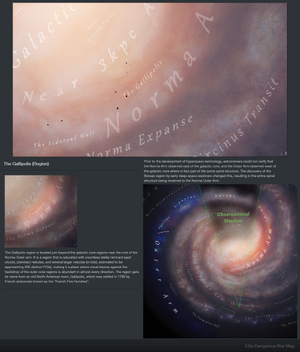 The Gallipolis region is located just beyond the galactic core regions near the root of the Norma-Outer arm. It is a region that is saturated with countless stellar remnant eject clouds, planetary nebulae, and several larger nebulae (in total, estimated to be approaching 500 distinct POIs), making it a place where visual beauty against the backdrop of the outer core regions is abundant in almost every direction. The region gets its name from an old North American town, Gallipolis, which was settled in 1790 by French aristocrats known as the "French Five Hundred".[1]
Prior to the development of hyperspace technology, astronomers could not verify that the Norma Arm observed east of the galactic core, and the Outer Arm observed west of the galactic core where in fact part of the same spiral structure. The discovery of the Boreas region by early deep-space explorers changed this, resulting in the entire spiral structure being renamed to the Norma-Outer Arm.
References
Edit
Ad blocker interference detected!
Wikia is a free-to-use site that makes money from advertising. We have a modified experience for viewers using ad blockers

Wikia is not accessible if you've made further modifications. Remove the custom ad blocker rule(s) and the page will load as expected.