Speculated

The Hunter is a ship, item, or other feature that is not confirmed to be in development for Elite Dangerous. It may or may not be added to the game at a later date.
Not to be confused with Imperial Fighter.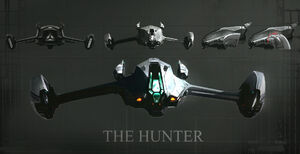 The Hunter is a ship that appeared in early concept art for Elite Dangerous.[1] Currently, no other information about the ship aside from the concept art is available, and no plans for this ship to be produced for the game have been announced.
References
Edit
Playable

| | |
| --- | --- |
| General availability | |
| Federation issue | |
| Empire issue | |
| Upcoming | |

NPC-only
Lore/Concepts
The Hunter