Speculated

The Hunter is a ship, item, or other feature that is not confirmed to be in development for Elite Dangerous. It may or may not be added to the game at a later date.
Not to be confused with Imperial Fighter.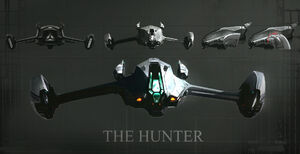 The Hunter is ship that appeared in early concept art for Elite Dangerous. Its name implies it is designed for a combat role while its appearance implies its manufactured by Gutamaya.[1]
References
Edit
Playable

| | |
| --- | --- |
| General availability | |
| Federation issue | |
| Empire issue | |
| Upcoming | |

NPC-only
Lore/Concepts
The Hunter
Ad blocker interference detected!
Wikia is a free-to-use site that makes money from advertising. We have a modified experience for viewers using ad blockers

Wikia is not accessible if you've made further modifications. Remove the custom ad blocker rule(s) and the page will load as expected.